Solving customers' query is one of the most important tasks in front of an enterprise. Keeping customers happy can be very tough, especially in today's time when there is so much competition between companies. To really reach out to customers, you need a 24×7 operation that caters to their every need. But it can be very expensive, which is why; customer service outsourcing makes real sense.
Why you Need 24×7 Call Center?
Nowadays, customers can call you at just about any time. If you are not there to pick up their phones, then they will be very disappointed. 24×7 support has become a benchmark and more or less a norm in the current state. A company that runs in-house call center operation often struggles to run a day and night process. The additional costs of admin department and facilities, along with the incentives that need to be paid to an unwilling workforce can be financially debilitating.
In contrast, a veteran 24×7 call center knows exactly how to manage resources. And if you are using a customer care company in India, then the cost of a 24×7 operation can be even less than your 9 to 5 call center.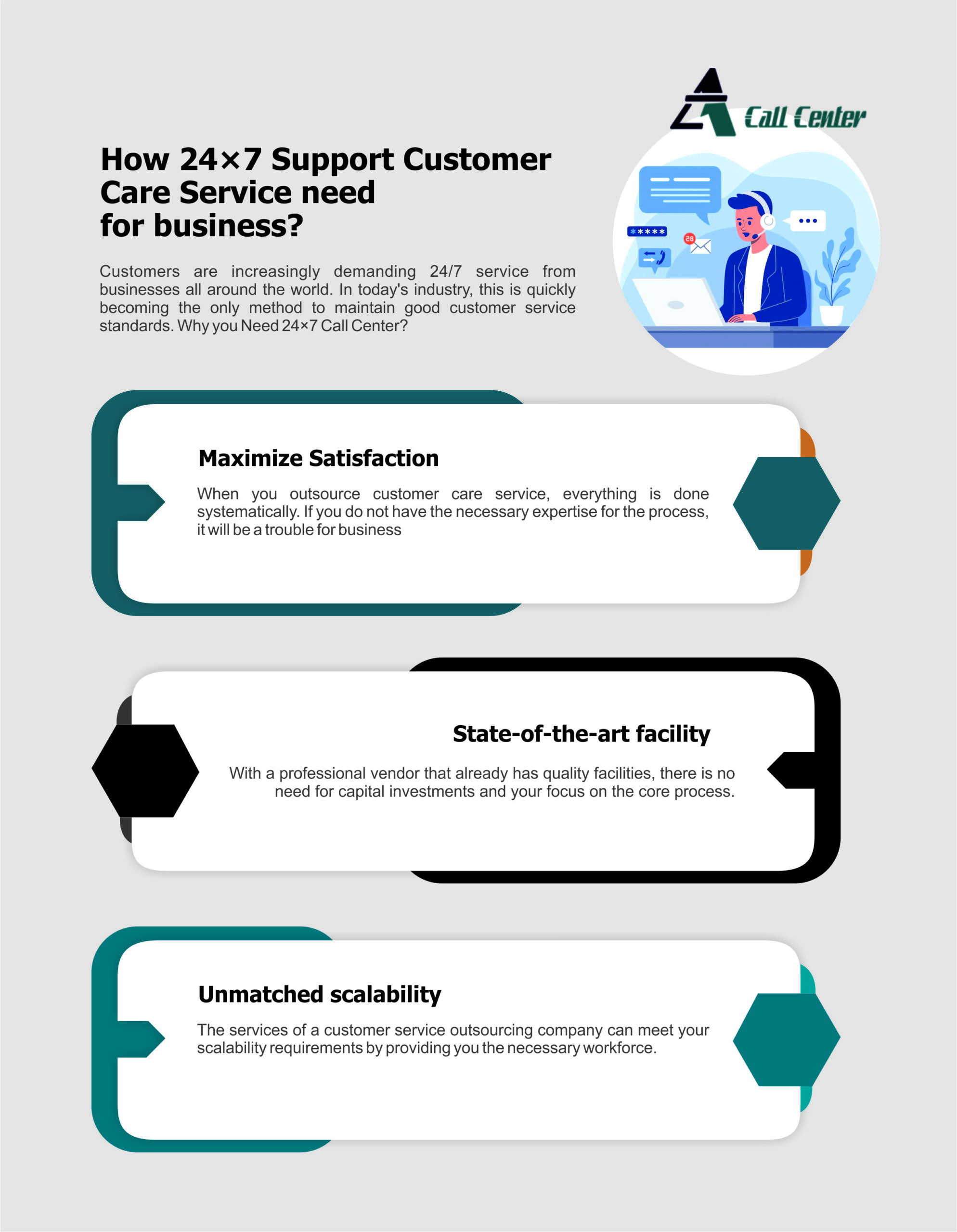 Outsource Customer Care Service and Maximize Satisfaction
Customer care services can be a hassle, if you do not have the necessary expertise for the process. There are a variety of parameters that need to be analyzed, and various tasks that need to be done, day in and day out. But when you outsource customer care service, everything is done systematically. Some advantages of outsourcing are:
State-of-the-art facility without any capital investment
To start an in-house operation, you need to make major investments. And the results are not always forthcoming, at least not in the initial stages. But with a professional vendor that already has quality facilities, there is no need for capital investments. The results are also immediate, and your focus on the core process is maintained.
Unmatched scalability
While running a 24×7 operation, you would need more manpower than normal. Therefore, you should choose the services of a customer service outsourcing company that can meet your scalability requirements by providing you the necessary workforce.
At A1 Call Center, we provide next-gen call center solutions. We have already proven ourselves with consistent delivery of projects and are ready to handle a call center job of any magnitude. A1 Call Center is a specialist in both inbound and outbound call center services.